At BEA mini we have an individualised approach to the place and the children. We take care of the integration of each child with love, in collaboration and regular communication with the family.
The acquisition of knowledge by the children in the BEA mini is a learning of skills and competencies through, above all, spontaneous play and a respectful emotional accompaniment, where nature is the teacher, whom we love and respect. The educators observe and support work with emotions simultaneously with cognitive and social development.
We favour free movement, with clear limits, risk management and the autonomy of the child. We want them to feel part of the natural environment, develop a critical sense and also support their innate curiosity. To promote the learning of skills such as responsibility, self-esteem, resilience, awareness of self and others we use various moments of the day:
We build fires to warm ourselves or prepare a hot drink. This increases the connection with nature, as well as the ability to assess the risks inherent to fire, teaching behaviours of respect for nature;
We go hiking, as a link and cohesion of the group (we move forward together), physical and motor development of adaptation to different surfaces, taking controlled risks, mutual help, cooperation;
During the day we play cooperative games with the children, songs, rodas and stories that help to create group cohesion.
We favour all the resources that nature can offer us including its raw materials (natural paints, for example) that serve the pedagogical, playful, sensorial and motor needs of the children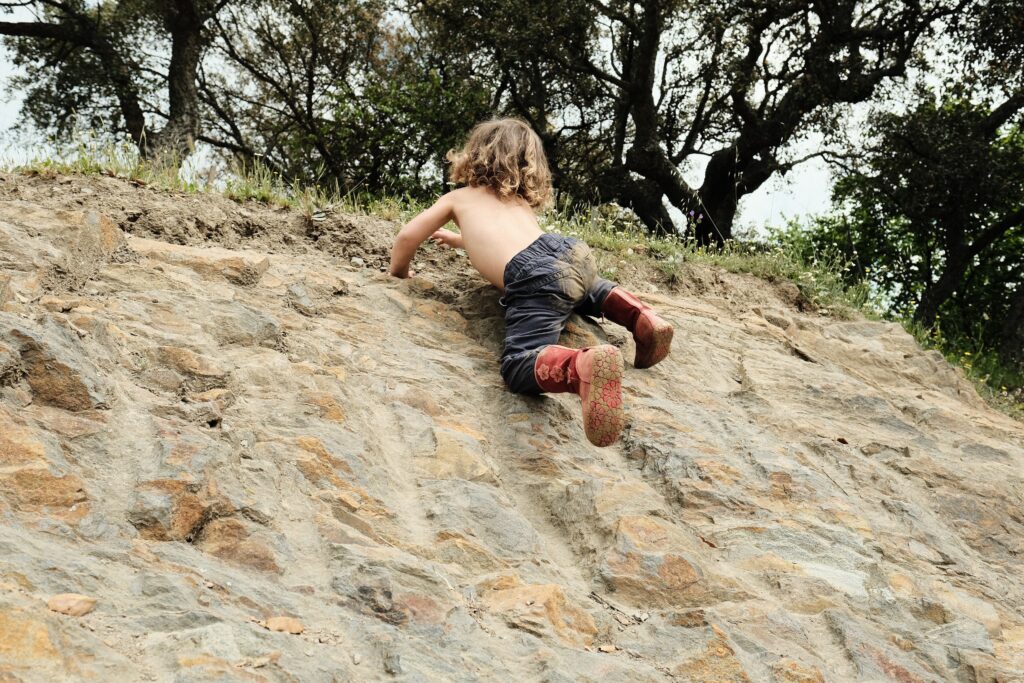 There are always two adults accompanying the children. The companions have participated in various training courses aimed at developing their skills in Nature education, first aid, non-violent communication, among others. In addition to these people, the project relies on the participation of people from the community, regular volunteering and the active participation of families!
Shelters and other support structures:
In the natural space we have several shelters (a wooden hut, a tipi that serves as shelter on rainy and cold days, where we can make a fire and an awning and ropes for occasional shelters / easily assembled and disassembled). In this context of nature, shelters are understood not only as a physical refuge but also as a place of cosiness, safety and protection of affections.
There are also dry toilets made of wood and several play places such as the swings, the sandbox and a fountain water tank where the children cool off on hot days.
Schedule and routine
BEA mini currently runs from Tuesday to Friday, between 9:30 am and 4 pm. The routine at BEA includes moments such as:
Welcome song and speech circle
Tour of the farm
Free play
Story
Guided activity
We adopt the school calendar of the Agrupamento de Escolas de Marvão, adapting it to our own needs and particularities.